Yay! I'm so excited...I took the advice of a commenter here (THANK YOU!!) and bought the Regency dress pattern from
Sensibility.com
, and I was actually able to follow it.
Now, the end result isn't perfect, obviously, but for my first go I'm fairly pleased. I got this great fabric for $1/yard (LOVE the clearance table at Walmart) to practice with:
I definitely learned a lot during the process, including what understitching is. :-) There were a few times I had to re-cut some pieces because I sewed something together backwards, but what really helped me a lot was the pictures in the instructions themselves and the pictures on the sensibility.com website! SUCH a great help for visually minded me!
In the end, it's a tad big around even with the waistband to tie...I have quite a large bosom so I think that had something to do with it. But it was fun, and hey if I decide to go out for Halloween this year I already have a costume!
Oh right! Pictures...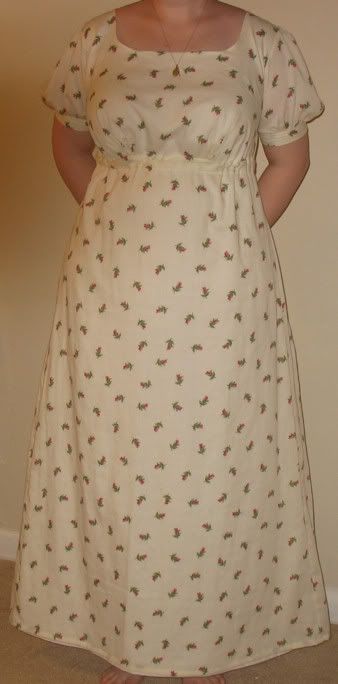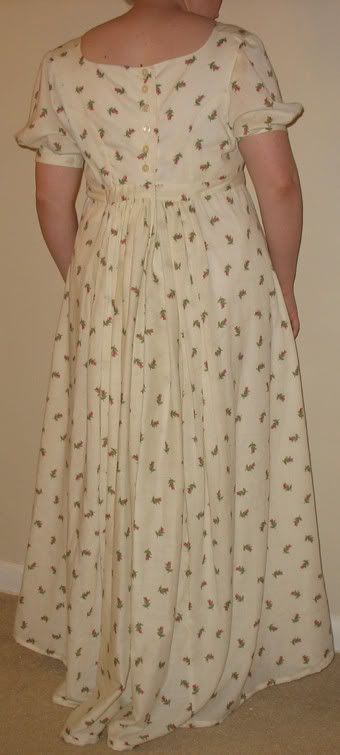 This was my practice run, because I wanted to actually make a slightly modernized version for a family wedding coming up soon. (Yes, to wear out in public, ack!!) I'll be posting the results of that next!
Oh, by the way, just for fun I thought I'd try one of my Regency inspired aprons on over the Regency dress. I think they go rather well together!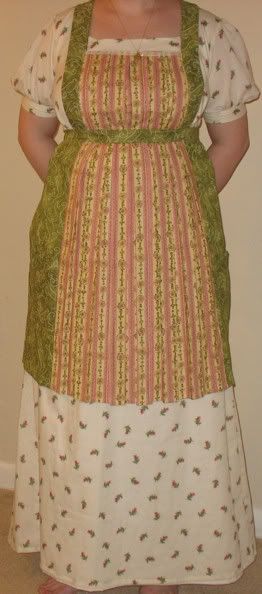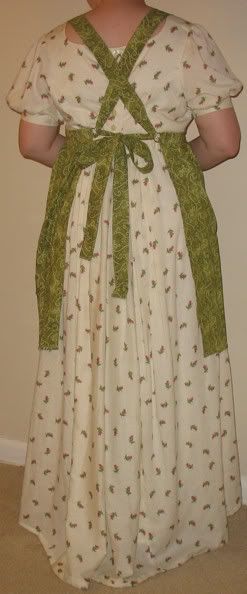 (The apron pictured is a tad shorter than my usual aprons...I was trying to use up that lovely fabric! Because of that, it's also $5 cheaper than the others, available at my Etsy shop
here
. :-)