No longer do I have to do my own modeling, I hired myself a model!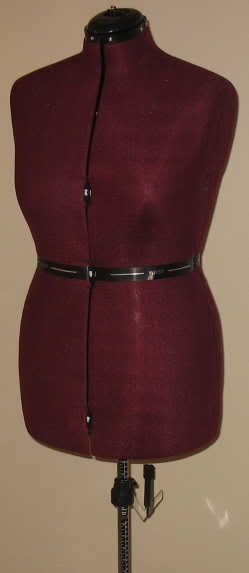 Lol...of course, I'm really excited about being able to play with fabrics using a dress form, it will be so nice to be able to look at the clothes on something else and not have to stand in front of the mirror and try to hold 10 different things on me to see how they would look.
I ordered it last week but had forgotten it was supposed to be delivered today. My dear husband actually surprised me...he was home sick today with a fever and cold, so I took the opportunity to go run some errands (since I'm usually without a car during the day.) Of course one of those errands was heading to a fabric store to use a giftcard I was given (Thank you Sleen!!!!!). I came back, said hi, went into the sewing/computer room to put up the fabric and there she was, all put together! :-D He even got rid of the box so I would be surprised, hehe. So sweet of him to do when he was feeling under the weather.
I was only able to buy this because of the items that I've sold, so a BIG THANK YOU to everyone who has helped me out!!