I've been having a strange urge to do something with box pleats...I love them, not sure why! I've also always loved the regency style, and while I'm not confident in my abilities enough yet to make a full dress (which would likely require using a pattern and I'm avoiding that as long as possible), I thought HEY! Maybe I can use the regency style as inspiration for an apron...and use some box pleats for fun!!
So, this is my rough idea:
There will be 2 fabrics used, one (probably something bold) that makes the center panel, and on the sides and the straps there will be a (more subtle) coordinating fabric.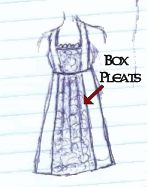 The back will be criss crossed...I saw this recently when we watched the BBC Pride and Prejudice and it stuck with me!
And this is just mentally flattening the apron to figure out what I need to do.
Wish me luck!